Our compassionate staff at Plateau Foot and Ankle pecializes in surgery, sports medicine , heel pain, and bunion treatment but also provides excellent care for other conditions. We are dedicated to improving your way of life. If you're looking for the most effective and efficient treatments possible, you've come to the right place.
Arch and Ball of the Foot
Pain and discomfort located in the arches or balls of the feet typically develop due to improper footwear, injury and overuse.
Children's Foot Problems
Children have resilient, flexible feet. Most foot issues resolve naturally, without treatment, however there are some problems that arise during early development.
Common Foot and Ankle Injuries
At some time we are all bound to experience foot or ankle pain. At any stage in life, problems are lurking around the corner. Below are the most common conditions treated by Dr. Dr Khanh Le. These can be caused by injury or accident.
Deformities
Does your foot appear misshapen? Deformities of the foot are hereditary. Wearing improper foot wear will cause these deformities to become painful and troublesome.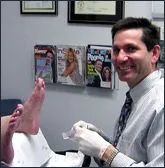 Diabetes and Circulatory Disease
If you have diabetes, you are exceptionally at risk for developing a number of secondary diseases. Diabetes causes a decrease in blood flow and loss of feeling in the feet. Neuropathy increases the likelihood for foot problems to go unnoticed and dramatically degenerate.
Diseases of the Foot
Our feet can tell us a lot about our overall health. They are the first place to show symptoms of extremely harmful diseases.
Heel Pain
Heel pain is a problem. Don't let it diminish your quality of life. Come in for a visit and we'll have you pain free in no time.
Nail and Skin Problems
Our skin and nails are very important. It's crucial to keep these tissues clean and healthy. Most nail and skin conditions are associated with fungus or bacterial infections.
Nerve/Vascular Disorders
Are you experiencing burning or stabbing sensations in your feet or legs? The culprit is most likely nerve damage.  Due to the nature of nerve and vascular disorders, discomfort typically occurs at irregular intervals, during activity and even during periods of rest.
Toe Problems
The toes provide balance and mobility for the entire body. Whether on the move or standing still, toe problems can be quite painful. Most conditions affecting the toes are the result of overuse, trauma to the foot, or improper footwear.
When it comes to foot pain, let our experienced podiatrist treat your feet. If you become aware of any abnormalities in your feet, it is important to have them diagnosed by a professional. Schedule an appointment online with our office in Sammamish by calling 425-868-3338 or by visiting our appointment request page.